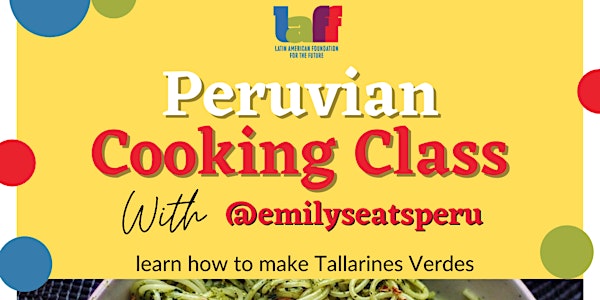 Festival of Youth: Peruvian Cookery Class
Virtual Peruvian Cookery Class: Join the brilliant @emilyeatsperu for a traditional Peruvian cookery class!
About this event
We're excited to share with you our traditional Peruvian cookery class, hosted by the brilliant Emily Bennett. Kicking off the cultural events of LAFF's 2021 Festival of Youth, we can't wait to cook with you!
In this hour-long virtual cookery workshop, join us & Emily in cooking a traditional vegan dish: Peruvian Pesto Pasta (Tallarines Verdes) with Tofu Milanesa (Milanesa de Tofu). Join us in experiencing Peruvian culture through taste!
Please find the complete list of ingredients/utensils listed below:
Peruvian Pesto Pasta- Basil, Soy, Olive oil, Garlic, White Onion, Spinach, Firm Tofu, Lime Juice, Salt and Pepper, Long pasta: Spaghetti, Linguine or Fettuccine.
Tofu Milanesa-Firm or Extra Firm Tofu, Plain Flour, Soy Milk, Vinegar, Salt, Pepper, and Oregano, Vegetable Oil.
Utensils:
Frying pan (2 if possible), Saucepan, Blender, Knife, Spoons, Tongs, Spatulas, Sauce pot.
Price of Attendance:
The event does not have a set ticket price, but we do ask kindly that ALL attendees make a minimum donation of £10 to help support LAFF's programmes of quality education and personal development in Cusco, Peru. Thank you!
Be sure to follow @emilyeatsperu on Instagram to see more of her recipes!